Night of Gold is a Christian event featuring live music, food, faith and fellowship at Fun Spot America!
Saturday, April 29, 2023
Fun Spot America (Orlando location) 5700 Fun Spot Way, Orlando, FL 32819
Our Talented Christian Artists:
Unlimited Ride Access to 25+ Rides
Inspirational Speakers
Praise and Worship Band
Add More Fun with These Add-Ons:
2023 Souvenir Unlimited Drink Cup: $7.99/person + tax
60 Minutes Unlimited Arcade (Not Valid for Prizes): $6/person + tax
Meal Card Valid for One Entree, Side, and Dessert + All-Day Unlimited Soft Drinks: $16.50/person + tax
General Admission
Night of Gold
Armband
All-Day Park Access
Access to Event, Starting at 5 P.M.
$250 Non-refundable Deposit
GATE RATE$61.50 per guest + tax
EVENT RATE$45.00per guest + tax
Season Passholder
Night of Gold
Armband
All-Day Park Access
Access to Event, Starting at 5 P.M.
Available for Season Passholders
GATE RATE$61.50 per guest + tax
EVENT RATE$20.00per guest + tax
Group Requirements:
Group minimum of 10 people
Groups must be registered in advance (no later than April 23, 2023)
Full payment is required by Friday, April 28, 2023
Reserve your group today with a $250 non-refundable deposit
Churches using their Florida Tax Exempt Certificate must provide pay by organizational check or credit card matching the tax exemption certificate
No purchases/add-ons after registration closes or on day of event
Grab a Bite to Eat!
Hungry? Add on a Meal Card for $16.50/person + tax to redeem for one entree, a side, and a dessert, plus unlimited soft drinks all day long!
Enjoy selections from:
Is the park open to the public on April 29, 2023?
Yes, the park will be open to the general public. However, Night of Gold will be taking place in our Exclusive Event Space and is a separately ticketed event.
What are the park hours for Fun Spot and Night of Gold?
Fun Spot America will operate from 10 a.m. – midnight. The event field space will open at 5 pm. Night of Gold event hours are from 6 p.m. – 9 p.m.
Do chaperones have to attend with the group?
All groups will require a designated point of contact who cannot be a minor. We recommend 1 adult chaperone for every 15 youths during the event. Only registered adult chaperones will be admitted into the event.
Can I buy a ticket on the day of the event?
No, all tickets must be pre-purchased through Fun Spot's Group Department by April 23, 2023.
Can my group bring in their own food?
No, Fun Spot America does not permit outside food or drink to be brought in. The park features several eateries with food available for purchase.
Can my group leave before Night of Gold is over at 9 p.m.?
Yes, you are more than welcome to leave prior to the event closing. However, the best value will be to enjoy the Night of Gold in its entirety.
Are there vegetarian and vegan options available?
Fun Spot offers a variety of vegetarian options in-park. At this time, no vegan options are offered in-park.
Does my group have to leave Fun Spot at 9 p.m. when Night of Gold is over?
No, groups may stay until the park closes at midnight.
Will there be seating provided?
No, but each group is welcome to bring folding chairs or blankets to set up their own seating at the Event Field.
What is included with the event ticket?
All tickets purchased for Night of Gold will provide each participant unlimited ride access to more than 25+ rides (go-karts and roller coasters included), as well as unlimited access to Gator Spot and Night of Gold. Standard tickets do not include arcade/midway play, food and beverage, or Sky Coaster flights. To enhance your experience, see the options available on our event order form.
What is the refund policy?
The Night of Gold will take place rain or shine and is a separately ticketed event. We will not be able to offer refunds. If you are unable to attend, please contact the Group Sales department.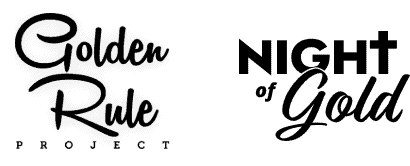 Grow Gold † Shine Bright † Lead by Faith
As an extension of our Golden Rule Project, Night of Gold is an event rooted in kindness, joy, faith and FUN for everyone! Join us for this unforgettable evening on April 29, 2023!