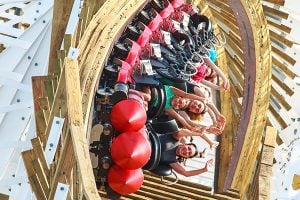 Kissimmee, FL. (June 12, 2023) – Summer is in full swing, and Fun Spot America Kissimmee is welcoming everyone to come out for HUGE new thrills on the park's famous Mine Blower roller coaster. The only "woodie" in Florida with a Zero-G Barrel Roll was temporarily closed in April as part of the company's plan to develop and add something new to each park this year.
Fun Spot America Theme Parks partnered with Rocky Mountain Construction (RMC) for the Mine Blower re-tracking project which helped to improve the six-year-old coaster. RMC focused on the most dynamic sections of the ride's track.
"This month, all of us at Fun Spot are celebrating our 25th birthday," said John Arie Jr., President and CEO, Fun Spot America Theme Parks. "We have been focused on creating and providing something new at each of our parks as well as enhancing our entire operation. The reopening of Mine Blower is HUGE for our fans, pass holders, and first-time guests of all ages!"
Fun Spot's Summer Celebration is also underway. With new photo spots, unique new food and beverage menu items, and the annual July 4th fireworks show at all three parks, Fun Spot's parks offer safe, clean fun for everyone. In addition, with the new Firecracker attraction in Orlando, the new ArieForce One coaster in Atlanta, and the reopening of Mine Blower, Fun Spot's ride experiences are better than ever!