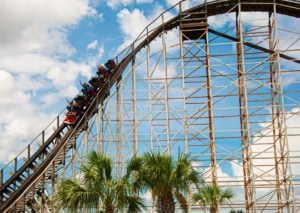 Date of Post: 3/12/21
Looking for ideas for the perfect Spring Break? Let us help you with some tips on how to have the BEST Fun Spot Spring Break!
1. First thing's first, grab yourself a Season Pass. For only $99, it pays for itself in two visits, and since you're off for an entire week, it will definitely pay for itself! This gives you unlimited access to all rides at all three of our parks. Roadtrippin' this Spring Break? Hit up our Florida parks (Orlando & Kissimmee), then head on up to Georgia to visit our Fun Spot America Atlanta park!
2. At Fun Spot America Orlando, be sure to ride the renowned White Lightning, Orlando's ONLY wooden roller coaster with speeds of up to 48 mph and plenty of airtime. Then try Freedom Flyer, a steel suspended inverted roller coaster. If you're looking to put the pedal to the metal, be sure to try our multi-level go-kart tracks! With four to choose from, there's a track for everyone. Take your pick of the many thrill and family rides or even relax on the Ferris Wheel.
3. Continue your trip by visiting Gator Spot, a 15,000 square foot oasis located exclusively at our Orlando park with over 100 gators, exotic animals, and birds. Take a photo with an alligator and a snake, catch a feeding show, and be sure to check out the gift shop on your way out for some cool souvenirs to bring home.
4. Make a splash on your Spring Break vacation and rent your very own cabana with some friends or for the family! Conveniently located right next to our state-of-the-art Splash Pad, it comes with your own mini-fridge complete with 6 ice cold water bottles and a ceiling fan to keep you cool. The Splash Pad includes slip-resistant soft flooring, interactive water toys and spraying elements. As if that wasn't enough, you also get 20% off retail, park photos and SkyCoaster videos.
5. Visit Fun Spot America Kissimmee and ride the Mine Blower, the ONLY wooden coaster in Florida to go upside down. Race on the two go-kart tracks and check out the variety of thrill and family rides we have to offer here as well. Be sure to visit the back of Old Town to ride our newest coaster, the Hurricane, and then relax on the classic Ferris Wheel on your way out.
6. All of that riding will make you hungry, so refuel at the many food stands throughout the parks. With your Season Pass, you get 20% off all food & beverage. (We told you a Season Pass is a great idea!) And while you're at it, pick up a 2021 Souvenir Cup. With it, you'll be able to get FREE unlimited refills for your entire Spring Break (and all of 2021 if you come back)! Adults, grab yourself a 2021 Beer cup and get $2.99 refills. This year, we've got our HUGE Mardi Gras Celebration going on, so be sure to try out the many delicious Bayou Bites such as our Fat Tuesday Funnel Cake, Jambalaya, Beignets, and more. And yes, with your Season Pass you get 20% off all Mardi Gras food!
7. On the next day of your Spring Break vacation, reserve a time slot at The Backwater Bayou Escape Room exclusively located at the Orlando park. Grab some friends or bring the family and try this lightning round escape room that will challenge you to escape within 15 minutes. This escape room is only available during Mardi Gras, so be sure to check it out and keep the good times rolling!
8. Make it a Spring Break you'll never forget by braving the SkyCoaster! Here at Fun Spot America, we have the two tallest SkyCoasters in the world standing at 300 ft and 250 ft. This attraction combines skydiving and hang gliding into one thrilling, adrenaline-pumping experience. Bring home a souvenir t-shirt and a video to prove to your friends at home that you actually went on it.
See you at the parks!
#FunSpotsHUGESpringBreak