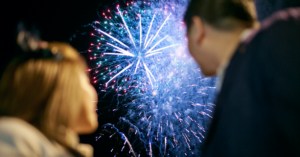 Fun Spot America Offers 3 HUGE Fireworks Displays on July 4th.
Enjoy fun new food, retro-inspired photo spots, and a HUGE fireworks show!
Summer is here, and Fun Spot America Theme Parks is pleased to announce another Independence Day Fireworks Celebration, this year on Tuesday, July 4th at all three Fun Spot Parks, Orlando, Kissimmee, and Atlanta. Fun Spot America CEO, John Arie Jr. said, "We're excited to offer a free firework show at each of our three park locations this Holiday weekend at 9 PM on Tuesday, July 4th!"
Wristbands are available for purchase to enjoy Fun Spot's many rides and attractions in the park. In addition, guests can try new food and beverage items recently introduced in the parks. In Kissimmee indulge in a Double Layered Funnel cake filled with cheesecake spread and strawberries, and in Orlando try a slice of Sbarro Pizza or a classic Johnny Rockets burger and shake.
"We're excited to partner with Fun Spot America Kissimmee for the 4th of July Celebration," says Thearon Scurlock, Old Town Vice President and General Manager. "Providing family-friendly entertainment that the entire family can enjoy is what makes Old Town and Fun Spot the area's premier entertainment parks and this year's celebration will be bigger and better than ever before."
Celebrate the Red, White, and Blue with free fireworks presented by Old Town and Fun Spot America Kissimmee. Bring the family for an entire day of fun including streetmosphere entertainment and live music on the Old Town Main Stage featuring Rocktown from 6 pm-10 pm.
Guests can also view other firework shows from the Orlando and Atlanta Park on Tuesday, July 4th beginning at 9 PM. Each Fun Spot America park opens at 10 AM daily during the summer months and Old Town begins at 11 AM. Admission, live music, the car show, and the firework show are all free.