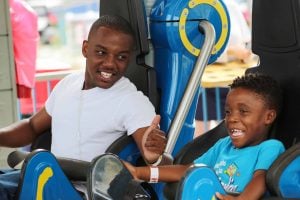 Most of you know when coming to the parks that your little ones may not be tall enough to ride some of our rides. That's where the Chauffeur (or Chaperone) Pass comes in!
Here's how it works:
The Chauffeur Pass is $9.95+tax. This is an in-park purchase only. (If your child is a Season Pass Holder, the accompanying adult get's one free.)
The Chauffeur Pass allows an adult (18 years or older) to accompany a child under 54 inches on rides that they are NOT tall enough for.
Keep in mind that if they ARE tall enough to get on a ride, meaning they meet the height requirement, the adult is not needed and cannot get on the ride with the child.
In some instances, the child will NOT be able to ride certain rides where they don't meet the height requirement even if an adult is present with a Chauffeur Pass because of safety reasons. We do this for the safety of the child.
We understand that some children may be scared to go alone. In that case, the adult would either need to pay for the ride, or upgrade to a Single Day Pass to ride with the child. You can just pay the difference with proof of purchase.