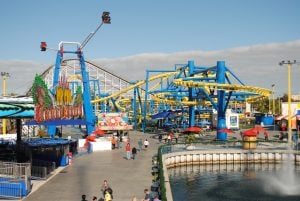 FOR IMMEDIATE RELEASE
Fun Spot America Theme Parks Announces Birthday Celebration Special Pricing
Fun Spot America Theme Parks special ONLINE ONLY pricing on June 8th and June 9th
Orlando,Florida June 5 2019, Fun Spot America Theme Parks today announced it's special ONLINE ONLY pricing in celebration of it's 2019 Birthday Celebration. The ONLINE ONLY special price of $25, normally $49.95, will get you unlimited rides on the roller coasters,go-karts,kiddie rides and the thrill rides. Skycoaster is also available at a special price of just $10 per person/flight, which is normally $40 per person/flight. Buy up to Ten passes and use anytime after June 10th until June of 2020.
John Arie Jr, CEO of Fun Spot America ,said "On June 8th and 9th we will celebrate our birthday party at all three locations. This year we are offering it online only not just for a day but for two days. I love celebrating our birthday with our guests as we have some of the best fans in the world. Everyone is always in a good mood that day even when the lines are real long. It's amazing how this community has accepted us over the years and have allowed us to create so many memories with their families. Thank you central Florida, and happy birthday to Fun Spot America."
To get this special deal starting at midnight on June 8th and ending at midnight on June 9th , visit Fun-Spot.com.
Fun Spot America debuted on Christmas Eve 1997 as a small five-acre park with go karts, rides and an arcade. Twenty One years later, Fun Spot America has grown to include three different locations and over 100 total acres of family fun. The flagship Orlando location includes the city's first wooden roller coaster, White Lightning, over
twenty different rides and the largest Skycoaster in the world. The Kissimmee park has more than twenty rides including the world's tallest Skycoaster at 300 feet and the only wooden roller coaster, Mine Blower, that goes upside down in the southeast United States. The Atlanta location is home to the Samson Track which is over four stories tall and 1,800 feet long, a new Ferris Wheel that was just added along with Bumper Kars and more rides for the entire family.
###
Media contact/Inquiries:
David Hummer
[email protected]
407.363.3867 ext.110