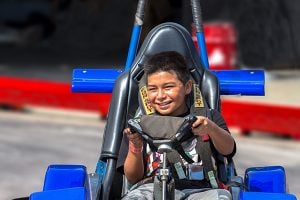 RED TRACK
Height Requirement: 60″

Included in Single Day Pass or pay as you go Fun E-Card Price: $12
Have the need for speed? The Thrasher track is our single rider, flat 'road course' sprint red track. Throttle and brakes allow you to slingshot past fellow drivers to the checkered flag. The closest thing to a real racing go-kart where the driver's skill makes the difference between winning and losing. As always safety first – all our go-karts are equipped with exclusive speed control to give track operators an extra degree of ensuring Safe – Clean – Fun.