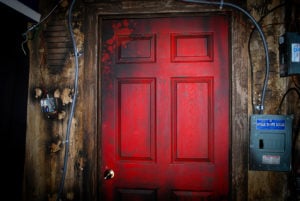 Fun Spot America announces Real Escape Room opening October 1st at the Orlando Park
It's a race to escape the Real Escape Room
ORLANDO – Imagine if you will, the property is for sale and the owners are having an Open House. John Arie Jr, our CEO by day and Paranormal expert by night, is interested in the property, but when he goes to tour the house, things mysteriously begin to go wrong. John Jr sent out a distress message that sounded like he's encountered ghosts and spirits at the Open House; and he hasn't been seen since! We're inviting guests to our Orlando Open House to help solve the mystery of our disappearing CEO, and escape from the house before time runs out!
The Real Escape Room will accommodate up to 6 people per tour and a minimum of 4 people will be required. Tickets are available for purchase for $15 per person at the Orlando park Admissions booth on the day of your visit, and reservations will be assigned at that time. Each party will have 15 minutes to solve the mystery and escape. Guests will be required to wear masks, gloves provided by a Fun Spot employee, and the use of cell phones, photography, and videography is prohibited while on the tour.
The countdown clock is ticking. Can you and your friends solve the mystery of our Real Escape Room in time? Reservations begin October 1st and run through November 1st.
Along with the Real Escape Room, mark your calendars for Fun Spot Orlando and Kissimmee Trick or Treat trail happening every Saturday in October from 4 pm-7 pm. Find something sweet themed Candy Spots located throughout the parks. Guests are encouraged to dress in costume, face coverings are required, and there is no age limit. Guests are asked to bring their own reusable bag.
Be sure to save room for Fun Spot's Fright Bites found throughout both Florida parks. Autumn flavors like apple cider and pumpkin spice are only available for a limited time.
Fun Spot America Orlando and Kissimmee are open daily this Fall; Monday through Thursday 2 pm-Midnight, and Friday, Saturday, and Sunday 10 am-Midnight.