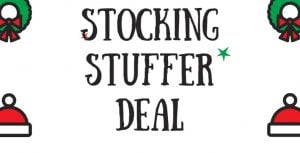 Date of Post: 12/9/19
If you're taking advantage of our Stocking Stuffer Special on 12/11/19, here's the rundown on your most asked questions!
The Stocking Stuffer Deal is $30+tax Single Day Fun Passes. Sale goes LIVE at 12:01AM Wednesday, December 11th.
Can I purchase this special at the parks? – No, this is an online exclusive deal to be purchased on December 11, 2019 only.
How many can I buy? – You may purchase up to 6 per transaction.
When can I use them? – You can start redeeming them on Christmas Day 12/25/19.
Is this a multi-day pass? – The pass is good for one day only.
Does it have to be used on Christmas Day? – Nope! You can use them any one day as long as you use it before December 31, 2020 (next year).
When do they expire? – December 31, 2020 (next year).
Can I use them at both parks? – These are 1-Park Passes so you can choose Orlando OR Kissimmee.
Can I use them at the Atlanta park? – This pass is exclusively for the Orlando or Kissimmee park.
What does the pass include? – It is a regular Fun Pass so that gives you access to ALL rides to enjoy as many times as your heart desires! It does NOT include the Skycoaster and arcade.
Does this pass include a Chauffeur Pass? –  Yes, it does include a Chauffeur Pass to go with a child under 54 inches.