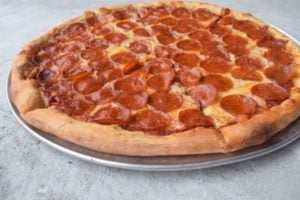 Fun Spot America Adds Sbarro Pizza
Grab the Famous XL NY Pizza at the Orlando Park
Summer 2021 is coming in hot with a HUGE variety of new Food and Beverage concepts at Fun Spot America, Orlando. Now guests can indulge in the famous XL NY Pizza slices. Whether you prefer to fold it in half, pinch and hold, remove the toppings, stack them, or leave the crust, there's no wrong way to enjoy your freshly baked Sbarro Pizza. Trust us, your taste buds will thank you.
Sbarro was founded in 1956 in Brooklyn, NY. The founder, Carmela Sbarro wanted an option for shift workers looking for a quick meal. From there, the original XL NY slice of pizza was born. Since then, Sbarro has brought Italian food lovers some of the best pizza to 630 eateries across 28 countries. Fun Spot Orlando guests can choose from the following menu items; Cheese or Pepperoni Pizza, Pepperoni Stromboli, Sausage, Pepperoni, and Bacon Stromboli, Breadsticks, Chips, and Chocolate Chip Cookies. Dipping sauces will also be available.
Fun Spot America's Sr. Vice President of Food and Beverage Albert Cabuco says, "The goal of implementing Sbarro is to allow diners a variety of delicious cuisine options while at an affordable price. We couldn't be more excited for their arrival!" Guests can grab their piece of the pie inside the Sky Diner. Expect additional new food and beverage concepts for each park to be announced in the coming Summer months.
Now through September 6th fans can take advantage of Fun Spot's HUGE Summer. Enjoy new food and beverage, snap a photo in front of one of our retro-inspired photo walls, or enjoy the park's 4th of July fireworks displays.