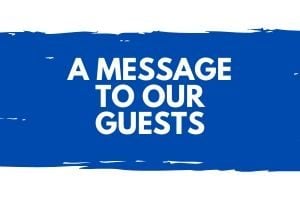 Update June 19, 2020:
Per Orange County Executive Order No 2020-23, all patrons of Fun Spot America must wear face masks consistent with the CDC guidelines until further notice. We also ask that everyone while in our parks adhere to our six foot social distancing guidelines. This is only to protect our employees, our guests, and all of our families. Thank you for your understanding and we are still very excited to see everyone in our parks creating memories that last a lifetime. Remember at Fun Spot America, we are safe, clean, and its always fun!
To help maintain your health and the health and safety of our team members is our first priority. We are taking precautions to keep everyone safe, including, but not limited to:
• We are completing temperature checks for all team members prior to the start of their shift.
• Team members will be working in Clean Teams to strictly focus on enhanced sanitation, wiping down all railing, surfaces and high-touch areas regularly.
• All Team Members will be required to wear face masks at all times.
• All Food & Beverage and cash-handling team members will be required to wear face masks and gloves.
• Enhanced social distancing measures throughout the parks including outdoor seating reconfigured to a minimum of 6 feet apart and attraction queue lines will be 9 feet apart from each other.
• Hand sanitizers are located within eyesight throughout the parks, reminding guests to wash their hands.
• All condiments, sides and single-use utensils are available upon request.
We're all in this together, so please do your part to maintain a safe, clean and fun environment for all to enjoy:
• Maintain a safe physical distance with anyone not in your group. You'll see signs and reminders in the park asking you to maintain a minimum of 6 feet of social distancing.
• Be sure to wash your hands after bathroom use and use the sanitizer stations located throughout the park.
• If you see anything that needs to be cleaned or sanitized, you can ask any of our Clean Team members (wearing our Golden Rule t-shirts) for help.
• Per Orange County Executive Order No 2020-23, all patrons of Fun Spot America must wear face masks at our Orlando park. We recommend you bring your own.
• Per local ordinance, masks are required at our Kissimmee park. We recommend you bring your own.
• Keep yourself and others safe, if you have symptoms, or not feeling well, please go home. We would rather have you return when you can have fun with your family and friends.
• By visiting any Fun Spot America Theme Park location, you voluntarily assume all risks related to exposure of COVID-19.
• Learn more about the guidelines outlined by the CDC at www.fun-spot.com/CDC
WE LIVE BY THE GOLDEN RULE BY TREATING OTHERS AS WE WOULD LIKE TO BE TREATED.