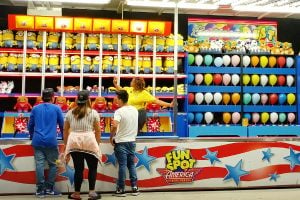 Try your luck at one of our classical Midway games! You can even win some prizes!
Balloon Bust – Test your aim and see how many balloons you can pop!
Hot Shot – Think you're the best basketball player around? Test your skills at Hot Shot and see if you can make one in the hoop!
Water Gun Fun – Race against your friends to see who can get their character to the top first!
Kiddie High Striker – Slam the hammer with all your might as you try to ring the bell at the top!