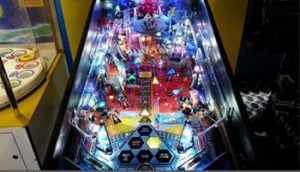 Kissimmee received a new pinball machine last week: Star Trek!
Season Pass Holders have the chance to play it for FREE, one time, until the end of July. To redeem your free play, see an arcade attendant. They will record your information and your high score. You MUST bring in your season pass card in order to play! The player with the highest score come August 1st will receive a FREE 2015 Season Pass for a friend (a $99 value!). The Season Pass expires at the end of 2015.  Winner will be contacted at the end of the month via phone or email.
Remember you only get one shot, so make it count!