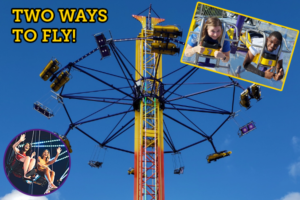 Height Requirement: 48″
Get a bird's eye view of the park on this 90-foot tall swing ride! Choose how to fly: the 24-passenger swing features both traditional side-by-side 2 passenger ride seating as well as side-by-side 2 passenger horizontal (prone) seating.
Pay as you go using a Fun E-Card (ride price: $12), or purchase a Single Day Fun Pass to enjoy Liberty Swing and many of our other exciting rides at Fun Spot!