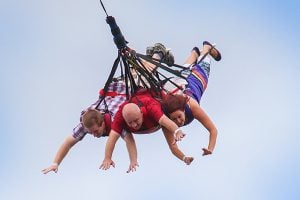 Height Requirement: 42"
$40 each for single rider, $35 each for double riders, $30 each for triple riders.
Only $20 with purchase of Single Day FUN Pass! One flight included in the Single Day Mega Fun Pass.
For the ultimate thrill seeker!  Ride in groups of up to 3 people as you take flight on the World's Tallest SkyCoaster standing at 300 feet! Get a great view of the attractions area and experience the closest thing to jumping out of a plane besides jumping out of a plane.