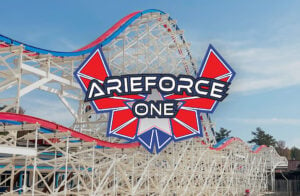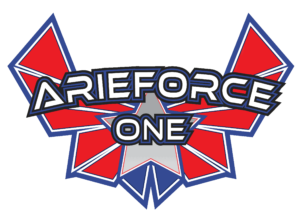 Fun Spot Atlanta America Announces Exclusive First Ride Auction in Celebration of ArieForce One
Proceeds to Benefit the National Roller Coaster Museum and Archives
FAYETTEVILLE, Ga. (March 11, 2023) – Fun Spot America Atlanta is ready to fly with its incredible new roller coaster, ArieForce One, which opens Friday, March 31, 2023. In celebration of the grand opening, Fun Spot is offering fans, coaster enthusiasts and thrill seekers alike the once in a lifetime opportunity to be the first guests to experience the one-of-a-kind coaster.
The exclusive ArieForce One First Pilot Auction, benefiting the National Roller Coaster Museum and Archives is now live. Twenty winners will experience the coaster together as the park's first public riders on March 31. Winners will also take part in the grand opening celebration at Fun Spot America Atlanta, receive an exclusive opening day gift bag and a complimentary 2023 Fun Spot Season Pass, valid at all three Fun Spot parks.
To learn more and to bid on a seat, visit: http://bit.ly/3yxaq0J or https://bramsey.hibid.com/auctions/. The auction closes at 11:59 p.m. on Sunday, March 26. Winners will be announced and contacted on Monday, March 27.
"ArieForce One is a HUGE dream come true," said John Arie Jr., president and CEO, Fun Spot America. "We cannot wait to welcome guests to fly with us! This coaster is one of the most anticipated this year and we're ready to invite everyone to experience weightlessness, right here in Georgia. We're especially proud to support the National Roller Coaster Museum and its efforts to preserve the history of the global amusement industry."
ArieForce One extends over 3,400 feet of red and blue track and reaches speeds up to 64 miles-per-hour. Two exclusive, state-of-the-art coaster trains take guests up a towering 154-foot lift hill and then send them flying – like a pilot in a fighter jet – for 100 seconds through a steep 83-degree first drop, and the largest Zero-G stall in the country. ArieForce One also features four inversions as the coaster flies over the track, including a first-ever Raven Truss Dive, two Zero-G Rolls and a 180-degree stall.
ArieForce One opens to the general public at 4 p.m. on Friday, March 31.
###
About Fun Spot America Atlanta
Located in Fayetteville, Georgia, Fun Spot America Atlanta is open year-round. Complete with over 24 rides and attractions, Fun Spot offers something for everyone in the family. In 2022, the park added the Screamin' Eagles and Tilt-A-Whirl family attractions. New midway games and food trucks around the park help round out the experience. In 2023, the park added a food truck featuring snack favorite Auntie Anne's Pretzels. The park also features an immense arcade, batting cages and the state's first and only multi-level go kart track. ArieForce One is the largest single investment Fun Spot America has ever made and is one of the most anticipated new roller coasters of 2023.
Fun Spots America Atlanta offers pay-as-you-go attraction options, single day Fun Passes and the Season Pass options. Season passholders will have the exclusive opportunity to ride ArieForce One before it opens to the public.
For more information about ArieForce One, Fun Spot America Atlanta, and to sign-up to receive exclusive updates about the park, visit Funspotamericaatlanta.com.
Media Information:
ArieForce One Media Kit – Click here
Fun Spot Atlanta News – Click here
Email – [email protected]
ArieForce One Contact Information:
For information to be a part of the exclusive ArieForce One Media Event, email Susan Storey at: