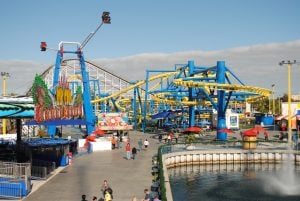 Because everything seems extra special during the cooler months of the year. With our free parking and admission, some of these ideas are free or affordable.
Grab a hot chocolate or coffee.
2. People watch. Fun Spot America Theme Parks are free admission parks so if you're not riding, take your hot beverage and have a seat on one of the many benches throughout the parks or have a seat in front of the Sky Diner by the fountain at the Orlando park.
3. Split a funnel cake with a friend or someone special
4. Treat yourself at the Sweet Spot in Orlando with a cookie or some chocolate covered pretzels.
5. Ride the Ferris Wheel in Orlando with someone special. Sunset and nighttime are prime times!
6. Theme parks provide great backdrops for a picture. Grab your camera and take a few. #BestDayEver
7. Have an ice cream or some delicious dole whip.
8. Catch one of the free events at the parks. You can check out Orlando's calendar here or Kissimmee's calendar here to see all upcoming events.
9. Feed the fish at the lake at our Kissimmee park.
10. Watch people fly the SkyCoaster. Some good spots are atop the Sky Diner at our Orlando park and there's plenty seating around the Kissimmee park to watch people fly the tallest SkyCoasters in the world. And if you're brave enough, fly it yourself!